Kia K900: SRS components and functions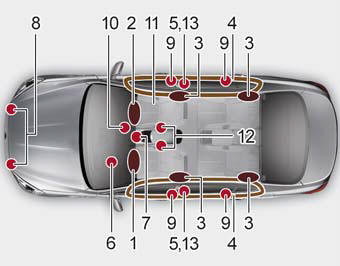 The SRS consists of the following components:
1. Driver's front air bag module 2. Passenger's front air bag module 3. Side air bag modules
4. Curtain air bag modules 5. Retractor pre-tensioner assemblies 6. Air bag warning light 7. SRS control module (SRSCM) 8. Front impact sensors
9. Side impact sensors
10. PASSENGER AIR BAG "OFF" indicator (Front passenger's seat only) 11. Occupant detection system (Front passenger's seat only) 12. Driver's and front passenger's seat belt buckle sensors 13. Emergency fastening device (EFD)
The SRSCM continually monitors all SRS components while the ignition switch is ON to determine if a crash impact is severe enough to require air bag deployment or pre-tensioner seat belt deployment.
The SRS air bag warning light on the instrument panel will illuminate for about 6 seconds after the ignition switch is turned to the ON position, after which the air bag warning light should go out.
If any of the following conditions occurs, this indicates a malfunction of the SRS. Have an authorized K900 Kia dealer inspect the air bag system as soon as possible.
The light does not turn on briefly when you turn the ignition ON.
The light stays on after illuminating for approximately 6 seconds.
The light comes on while the vehicle is in motion.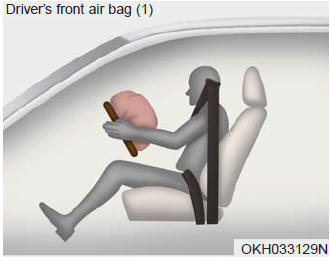 The air bag modules are located both in the center of the steering wheel and in the front passenger's panel above the glove box. When the SRSCM detects a sufficiently severe impact to the front of the vehicle, it will automatically deploy the front air bags.
Upon deployment, tear seams molded directly into the pad covers will separate under pressure from the expansion of the air bags. Further opening of the covers then allows full inflation of the air bags.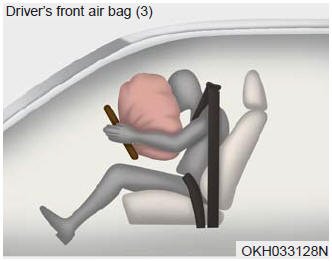 A fully inflated air bag, in combination with a properly worn seat belt, slows the driver's or the passenger's forward motion, reducing the risk of head and chest injury.
After complete inflation, the air bag immediately starts deflating, enabling the driver to maintain forward visibility and the ability to steer or operate other controls.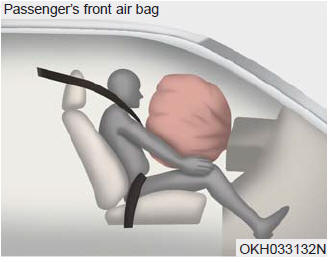 WARNING
Air bag obstructions
Do not install or place any accessories on the steering wheel, instrument panel, or on the front passenger's panel above the glove box in a vehicle Such objects may become dangerous projectiles if the air bag deploys.
✽ NOTICE
Before you replace a fuse or disconnect a battery terminal, turn the ignition switch to the LOCK position and remove the ignition key. Never remove or replace the air bag related fuse(s) when the ignition switch is in the ON position. Failure to heed this warning will cause the SRS air bag warning light to illuminate.