Kia K900: Malfunction indicator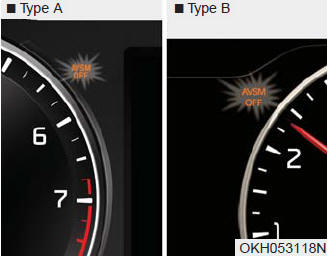 The AVSM OFF indicator will illuminate when the Engine Start/Stop Button is turned ON, but should go off after approximately 3 seconds.
If the indicator does not come on, or continuously remains on after coming on for about 3 seconds when you turn the Engine Start/Stop Button to the ON position, or if the indicator comes on while driving, the AVSM is not working properly. Take your vehicle to an authorized K900 Kia dealer and have the system checked.
The AVSM OFF indicator may illuminate when the ESC indicator or SCC indicator comes on, but it does not indicate a malfunction of the AVSM.
WARNING
The AVSM is not a substitute for safe driving practices. It is the responsibility of the driver to always check the speed and the distance to the vehicle ahead.
WARNING
Even if there is a malfunction to the brake operation of the AVSM, when you depress the brake pedal, the brake operates normally. AVSM brake operation does not operate in certain hazardous situations.
The AVSM is designed to function above approximately 10 mph (15 km/h) and below approximately 110 mph (180 km/h).
The AVSM does not detect: Persons or animals. Oncoming vehicles in the opposite lane or a vehicle in an intersection. Stopped objects.
The AVSM can not detect the objects, when: The sensors are stained with dirt or covered. There is heavy rain or heavy snow. There is interference by electromagnetic waves. There are strong radar reflections. Driving in a curve. Driving uphill or downhill. Driving in areas under construction. A object ahead is very narrow such as motorcycles or bicycles. A vehicle cuts in suddenly.
• The AVSM brake operation does not operate, if the driver does not release the accelerator pedal or does not operate the brake pedal.