Kia K900: Locking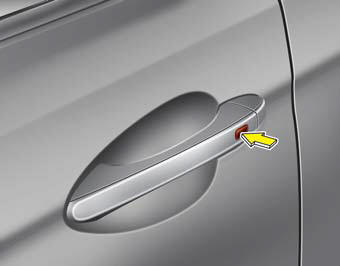 Pressing the button of the front outside door handles with all doors closed and any door unlocked, locks all the doors. The hazard warning lights will blink and the chime will sound once to indicate that all doors are locked.
The button will only operate when the smart key is within 0.7~1 m (28~40 in.) from the outside door handle. If you want to make sure that a door has locked or not, you should check the door lock button inside the vehicle or pull the outside door handle.
In some instances, when the outside door button is selected, the doors will not lock and an audible chime will sound for 3 seconds if any of the following occurs:
The smart key is in the vehicle.
The ignition switch is in the ACC or ON position.
Any door except the trunk is opened.