Kia K900: Windshield wipers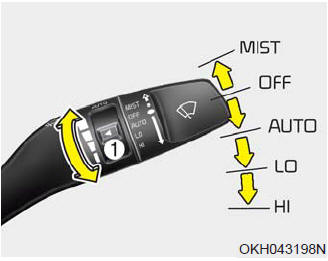 Operates as follows when the Engine Start/Stop Button is turned ON.
MIST :
For a single wiping cycle, push the lever upward and release it with the lever in the OFF position. The wipers will operate continuously if the lever is pushed upward and held.
OFF :
Wiper is not in operation
AUTO :
The rain sensor located on the upper end of the windshield glass senses the amount of rainfall and controls the wiping cycle for the proper interval.
The more it rains, the faster the wiper operates. When the rain stops, the wiper stops. To vary the speed setting, turn the speed control knob (B).
LO :
Normal wiper speed
HI :
Fast wiper speed
✽ NOTICE
If there is heavy accumulation of snow or ice on the windshield, defrost the windshield for about 10 minutes, or until the snow and/or ice is removed before using the windshield wipers to ensure proper operation.