Kia K900: Window opening and closing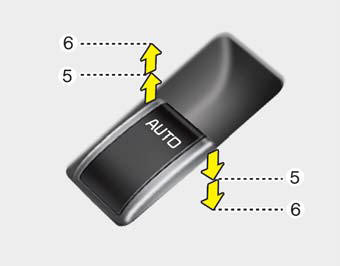 Pressing or pulling up the power window switch momentarily to the second detent position (6) completely lowers or lifts the window even when the switch is released.
To stop the window at the desired position while the window is in operation, pull up or press and release the switch to the opposite direction of the movement.
If the power window is not operated correctly, the automatic power window system must be reset as follows:
1.Press the Engine Start/Stop Button twice to the ON position.
2.Close the window and continue pulling up on the driver's power window switch for at least 1 second after the window is completely closed.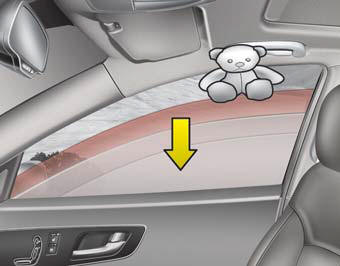 Automatic reversal
If the upward movement of the window is blocked by an object or part of the body, the window will detect the resistance and will stop upward movement. The window will then lower approximately 11.8 in. (30 cm) to allow the object to be cleared.
If the window detects the resistance while the power window switch is pulled up continuously, the window will stop upward movement then lower approximately 1 in. (2.5 cm).
And if the power window switch is pulled up continuously again within 5 seconds after the window is lowered by the automatic window reversal feature, the automatic window reversal will not operate.
The automatic reverse feature for the driver's window is only active when the "auto up" feature is used by fully pulling up the switch. The automatic reverse feature will not operate if the window is raised using the halfway position on the power window switch.
WARNING
Always check for obstructions before raising any window to avoid injuries or vehicle damage. If an object less than 0.16 in. (4 mm) in diameter is caught between the window glass and the upper window channel, the automatic reverse window may not detect the resistance and will not stop and reverse direction.