Kia K900: Rear seat
(10) Seat sliding forward or backward adjustment with seatback angle adjustment
(11) Easy access button
(12) Front passenger's seat forward and rearward
(13) Front passenger's seat back angle
(14) Lumber support adjustment
(15) Rear lock button
(16) Headrest
(17) Armrest
(18) Ski through
WARNING
Loose objects
Do not place anything in the driver's foot well or under the front seats. Loose objects in the driver's foot area could interfere with the operation of the foot pedals.
WARNING
Driver responsibility for passengers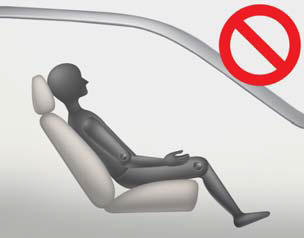 The driver must advise the passenger to keep the seatback in an upright position whenever the vehicle is in motion. If a seat is reclined during an accident, the restraint system's ability to restrain will be greatly reduced.
WARNING
Seat cushion
Occupants should never sit on seat cushions. The passenger's hips may slide under the lap portion of the seat belt during an accident or a sudden stop.
WARNING
Driver's seat
Never attempt to adjust the seat while the vehicle is moving. This could result in loss of control of your vehicle.
Do not allow anything to interfere with the normal position of the seatback. Storing items against a seatback or in any other way interfering with proper locking of a seatback could result in a serious or fatal injury in a sudden stop or collision.
Sit as far back as possible from the steering wheel while still maintaining comfortable control of your vehicle. A distance of at least 10" from your chest to the steering wheel is recommended. Failure to do so could result in air bag inflation injuries to the driver.
WARNING
Seat adjustment
Do not adjust the seat while wearing seat belts. Moving the seat forward will cause strong pressure on the abdomen.
Do not place your hand near the seat bottom or seat track while adjusting the seat. Your hand could get caught in the seat mechanism.