Kia K900: Headlight, front position light, front turn signal light, front fog light bulb replacement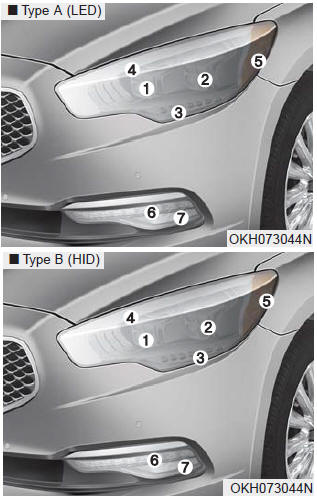 (1) Headlight (High)
(2) Headlight (Low)
(3) Front turn signal light (4) Front position light (5) Front side marker light (6) Daytime running light (7) Front fog light
Headlight bulb
WARNING
Halogen bulbs
Halogen bulbs contain pressurized gas that will produce fragment of glass if broken.
Always handle them carefully, and avoid scratches and abrasions. If the bulbs are lit, avoid contact with liquids.
Never touch the glass with bare hands. Residual oil may cause the bulb to overheat and burst when lit.
If a bulb becomes damaged or cracked, replace it immediately and carefully dispose of it.
Wear eye protection when changing a bulb. Allow the bulb to cool down before handling it.
Headlamp (HID/ LED type), front position lamp, front turn signal lamp, front fog lamp
If the light bulb is not operating, have the vehicle checked by an authorized K900 Kia dealer.
WARNING
HID Headlight low beam
Do not attempt to replace or inspect the low beam (XENON bulb) due to electric shock danger. If the low beam (XENON bulb) is not working, have your vehicle checked by an authorized K900 Kia dealer.
CAUTION
If your vehicle is equipped with High Intensity Discharge (HID) headlights, these headlights contain mercury. So if you need to have your vehicle disposed, you should remove the HID Headlights before disposal. The removed HID headlights should be recycled, re-used or disposed as hazardous waste.
✽ NOTICE
HID lamps have superior performance vs. halogen bulbs. HID lamps are estimated by the manufacturer to last twice as long or longer than halogen bulbs depending on their frequency of use. They will probably require replacement at some point in the life of the vehicle. Cycling the headlamps on and off more than typical use will shorten HID lamps life. HID lamps do not fail in the same manner as halogen incandescent lamps. If a headlamp goes out after a period of operation but will immediately relight when the headlamp switch is cycled it is likely the HID lamp needs to be replaced. HID lighting components are more complex than conventional halogen bulbs thus have higher replacement cost.