Kia K900: Description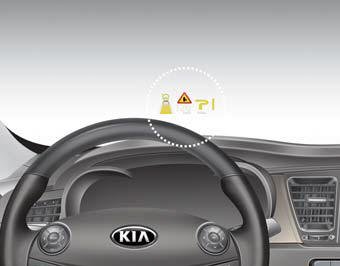 The head up display is a transparent display which projects a shadow of some information of the instrument cluster and navigation on the windshield glass.
The head up display image on the windshield glass may be invisible when:
Sitting posture is bad. Wearing polarized sunglasses. There is an object on the dash covering the Heads Up Display. Driving on a wet road. A light is turned on inside the vehicle. Light reflecting off the windshield in the area of the Head Up Display.
If the head up display image is not shown well, adjust the height or illumination of the head up display in the LCD display.
When the head up display needs inspection or repair, we recommend that you consult an authorized Kia dealer.
WARNING
Head Up Display
Do not make the front windshield glass have window tint or other types of metallic coating. Otherwise, the head up display image may be invisible.
Do not place any accessories on the clash pad or attach any objects on the windshield glass.
As the Blind Spot Detection (BSD) system is a supplemental device that may help you drive safe, it may be dangerous to rely on only the BSD information of the head up display image when changing the lane. Always pay attention to drive safely.
CAUTION
When replacing the front windshield glass of the vehicles equipped with the head up display, replace it with a windshield glass designed for the head up display operation. Otherwise, duplicated images may be displayed on the windshield glass.