Kia K900: Air ventilation seat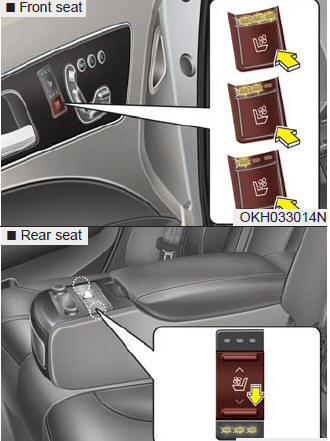 The air ventilation is provided to cool the seats during hot weather by blowing air through small vent holes on the surface of the seats and seatbacks.
While the engine is running, press the switch to cool the seat.
When the operation of the air ventilation is not needed, keep the switches in the OFF position.
Each time you press the switch, the airflow will change as follows:

When pressing the switch for more than 1.5 seconds with the seat cooler operating, the seat cooler will turn OFF.
When the air ventilation seat is turned on, the seat may get cooler after about 5 minutes.
Because the air ventilation uses the air in the vehicle, cooling efficiency depends on the temperature of the air. In order to improve cooling efficiency, use the air conditioning system together.
The air ventilation seat defaults to the OFF position whenever the Engine Start/Stop Button is turned to the ON position.
You can activate or deactivate the rear air ventilation button by using the REAR LOCK button on the rear armrest or "System Settings" in AVN (Audio, Video, and Navigation). Detailed information for "System Settings" is described in a separately supplied manual. If the REAR LOCK button activated (LED "ON"), you can not activate the rear air ventilation button. After deactivating (LED "OFF") the REAR LOCK button, you can activate the rear air ventilation button.
If the REAR LOCK button has activated through AVN, you can deactivate the REAR LOCK button only through AVN.
CAUTION
The air ventilation seat is a supplementary cooling/heating system. Use the air ventilation seat when the climate control system is on. Using the air ventilation seat for prolonged periods of time with the climate control system off could cause the air ventilation seat performance to impair.
When cleaning the seats, do not use an organic solvent such as paint thinner, benzene, alcohol and gasoline. Doing so may damage the surface of the seats.
Do not spill liquid such as water or beverages on the surface of the front seats and seatbacks, or the air vent holes may be blocked and prevented from working properly.
Do not place materials such as plastic bags or newspapers under the seats. The air vent may not work properly as the air intake can be blocked.
When the air vent does not operate, restart the vehicle. If there is no change, have your vehicle inspected by an authorized K900 Kia dealer.
CAUTION
Air intake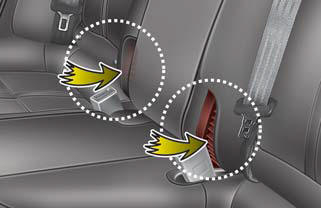 There is an air intake for the rear air ventilation at the lower part of the rear center seatback.
If the air intake is blocked, efficiency of the rear air ventilation will be lower. Be careful not to block the air intake.