Kia K900: Opening the hood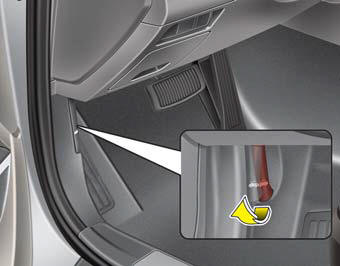 1.Pull the release lever to unlatch the hood. The hood should pop open slightly.
Open the hood after turning off the engine on a flat surface, shifting the shift lever to the P (Park) position for automatic transaxle and to the 1st (First) gear or R (Reverse) for manual transaxle, and setting the parking brake.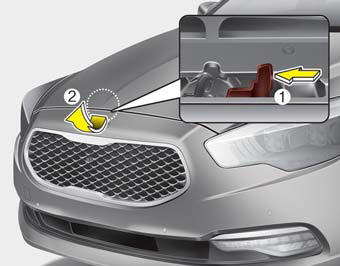 2.Go to the front of the vehicle, raise the hood slightly, push the secondary latch (1) left of the hood center and lift the hood (2).
3.Raise the hood. It will raise completely by itself after it has been raised about halfway.
WARNING
Always double check to be sure that the hood is firmly latched before driving away. If it is not latched, the hood could fly open while the vehicle is being driven, causing a total loss of visibility, which might result in an accident.
Do not move the vehicle with the hood raised. The view will be blocked and the hood could fall or be damaged.