Kia K900: Carrying long / narrow cargo (for fixed seat, if equipped)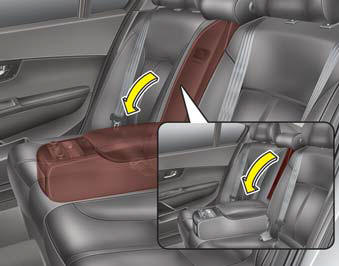 Additional cargo space is provided to accommodate long/narrow cargo (skis, poles, etc.) not able to fit properly in the trunk when closed.
1. Pull the armrest down.
2. Pull the cover down while pushing the release lever down.
CAUTION
Be careful when loading cargo through the rear passenger seats to prevent damage to the vehicle interior.
When cargo is loaded through the rear passenger seats, ensure the cargo is properly secured to prevent it from moving while driving. Unsecured cargo in the passenger compartment can cause damage to the vehicle or injury to it's occupants.
WARNING
Cargo
Cargo should always be secured to prevent it from being thrown about the vehicle in a collision and causing injury to the vehicle occupants. Do not place objects on the rear seats, since they cannot be properly secured and may hit the front seat occupants in a collision.