Kia K900: First Generation KH (2014-2022)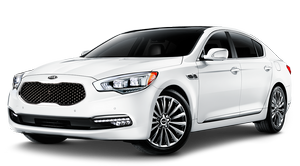 The Kia K900 reaches for the luxury stars--and grabs a little Lexus and old-school Cadillac, though it falls well short of Audi. Looking at the K900's spec sheet, and then at its rich styling and rear-drive layout, and then its spec sheet again, it's easy to drink Kia's self-congratulatory Kool-Aid.
See also:
Parking guide system (PGS) display
1.Changing rear view angle (Top/Normal) Changes the view angle of the rear camera. 2. Parking guide line According to steering angle, the parking guide line displays to help parking. ...
Instant Fuel Economy (3)
This mode displays the instant fuel economy during the last few seconds when the vehicle speed is more than 6.2 MPH (10 km/h). Fuel economy range: 0 ~ 50 MPG or 0 ~ 20 L/100km ...
Door Ajar Warning Light
This warning light illuminates: When a door is not closed securely. ...